Saratoga Real Estate
Pristinely situated on the western edge of the Santa Clara Valley, Saratoga is the perfect blend of small-town appeal with plenty to offer. Even though it only sports a population of approximately 30,000, Saratoga has earned several distinctions including the number four position as being a top-earning town and Forbes has recently named it one of the top 20 most educated towns in America.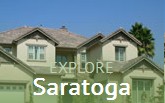 But Saratoga real estate has received accolades, as well. In 2010, Bloomberg BusinessWeek awarded this city the distinction of being the most expensive suburb in all of California and rated one of its zip codes (95070) as one of the top 20 richest in the nation. The influx of wealth can be largely attributed to its sizeable number of Silicon Valley workers. According to statistics, the average Saratoga household income is well over $200,000 per year with a net worth averaging an astounding one-and-a-half million dollars.

Even back in 1848 when the town originated, it started out with industry. From there, it expanded into agricultural, which was appropriate since the rich soil is perfectly suited for orchards and vineyards. After World War II, technology stepped in and the city has never looked back.

With such a seemingly small population for such an affluent area, there are still plenty of Saratoga homes for sale to choose from. The median sales price of a home here is in the $1.3 to $1.4 million range, with some Saratoga real estate climbing up into the $2 to $3 million value. This does cut down on the number of sales that are available, however, at the same time it still offers a sufficient inventory of homes that feature quality and style at its finest.

For those looking for more moderately-priced Saratoga homes for sale, it is possible to go to the areas of the city where some neighborhoods are valued at just under $1 million. This gives you the appeal of Saratoga real estate at a bargain price, while still allowing you access to all of the wonderful amenities that this city has to offer.

When looking for this class of home, you want to make sure that your time is well spent. Having a real estate professional on your side means that they can handle all of the details and set up appointments for you to see the homes that you are interested in. With this caliber of inventory, owners only want to work with those who are sincere in purchasing. Real estate professionals know the area and they know what to expect, which can make the transaction as smooth as possible.

Your time is too valuable to spend it sifting through pictures of home. Let a real estate professional handle all of the details of your Saratoga real estate purchase for you. They're dedicated to finding you the perfect home so that you can enjoy the Saratoga area to the fullest.