Silicon Valley Real Estate
When you think of technology, no doubt Silicon Valley is the first spot that comes to mind. Located on the southern part of the San Francisco Bay Area, its name is derived from the vast development and manufacturing of silicon chips. Being home to some of the largest and most prestigious technology firms in the world means that Silicon Valley real estate is also some of the most sought-after in the world.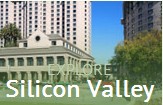 Making up one out of every three dollars of venture capital in the country, Silicon Valley made its mark on the map starting in 1971 when the first microprocessor in the world was built. Since then, its reputation for technology excellence, as well as its wealth, have continued to grow exponentially. Silicon Valley's popularity, geographical position within the state and mild climate make it a prized location to live. Residents easily take advantage in everything that this region has to offer its inhabitants.

Silicon Valley is comprised of an area that stretches from the southern part of the East Bay and the southern Peninsula through San Jose to the Santa Cruz Mountains and includes all of the Santa Clara Valley. If you are looking for Silicon Valley homes for sale, this gives you quite an expansive area to conduct your search.

Despite the current dip in the economy, Silicon Valley real estate has been holding its own. The median price for homes in this area averages in the mid to upper $400s. Silicon Valley homes for sale are averaging around the mid $500s with plenty of inventory to choose from. Considering the higher end neighborhoods that also encompass this area, there is bound to be something for buyers of any price range.

With such an expansive area to view, the best approach to begin your home-buying experience is to employ the services of a real estate professional. Finding a professional who is knowledgeable in the area means that you won't miss out on your perfect home. They can keep track of all listings for you and expedite showings so that you are constantly aware of everything that is available that appeals to your specific tastes.

Keeping track of all of the Silicon Valley homes for sale can be challenging: let a real estate professional guide you through the process so that you can enjoy finding and purchasing your new home, while leaving all of the details to them. Silicon Valley real estate is what they know best so capitalize on their extensive experience and knowledge, which will allow you to begin planning your move to beautiful sunny California.