Willow Glen Real Estate
As part of Santa Clara County, Willow Glen was created from a marsh that was drained at the beginning of the 20th century in order to make way for progress. It became a city in 1927 and its locale was firmly established when the Southern Pacific Railroad routed their line through Willow Glen. By 1936 the expansion of San Jose made it necessary to annex the city as part of San Jose.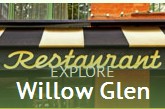 Today, Willow Glen remains one of the most popular suburb areas of San Jose, which currently ranks as the 10th largest city in the country. This charming community lends itself to a small-town feel with all the amenities of its larger host. This combination provides a tremendous opportunity for those who are looking to purchase Willow Glen real estate.

Willow Glen homes for sale average in the upper $600s with the median home price coming in at around the mid $500s. There are homes that go up in price to a million or more to cater to buyers of any price range. Considering the area and the impressive reputation that bolsters it, it's easy to see why Willow Glen real estate is very much sought after.

One of the allures of Willow Glen real estate is that many of its homes are made from styles of the 1920s and 1930s. These styles are predominantly Spanish or Victorian in nature. The character and history behind these structures make them valuable for the nostalgia that they offer and for capturing the essence of the town during its heyday. The tree lined streets and bustling shops and resturants on Lincoln Avenue make Willow Glen a highly desirable place to live for families, professionals and active adults.

If you have always wondered what it would be like to own a piece of the past, let a real estate professional help you sort through the Willow Glen homes for sale and find one that is just right for you. A real estate professional who knows the area, as well as the vast history that made it what is was during its era, can help you grow to appreciate what these homes stand for.

Let a real estate professional guide you through the buying experience while you soak in the history of Willow Glen. Make the decision to be a part of the exclusive group who not only get to capitalize on the value and reputation behind the Silicon Valley area, but who also get to enjoy the small-town charm and appeal of Willow Glen.